Get all the latest news on coronavirus and more delivered daily to your inbox. Sign up here.
Get ready to dine à la dome.
A restaurant in Paris is toying with the idea of placing each patron's head under a clear bucket-shaped dome, in order to prevent the transmission of coronavirus upon reopening.
SEE IT: MARYLAND BAR PROPOSES EACH PATRON REMAIN INSIDE INNER-TUBE TABLES
The prototype domes, proposed by French designer Christophe Gernigon, would hang from the ceiling above each diner, and extend down to their mid-torsos. Another of Gernigon's prototypes would extend down over two diners, to simply separate their party from those within the dining room.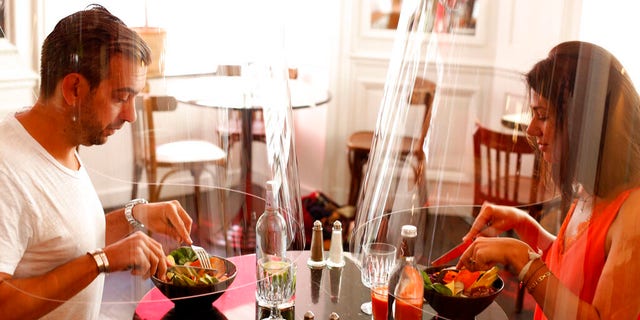 A man and a woman demonstrate dining under a Plex'Eat plastic shield Wednesday, May 27, at Paris restaurant H.A.N.D.
(AP Photo/Thibault Camus)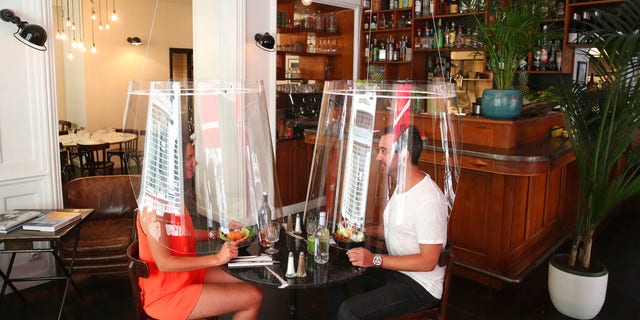 The director of the restaurant believes the idea presents a "prettier, more poetic" option for eateries that hope to reopen during the pandemic.
"I imagined, during my nocturnal creative wanderings of these months of confinement, a new way of welcoming customers of bars and restaurants in search of outings," writes Gernigon of his design, called the "Plex'Eat," on his website. "Even if I hope not to get there, it is better to consider aesthetic, design and elegant alternatives that guarantee the rules of social distancing."