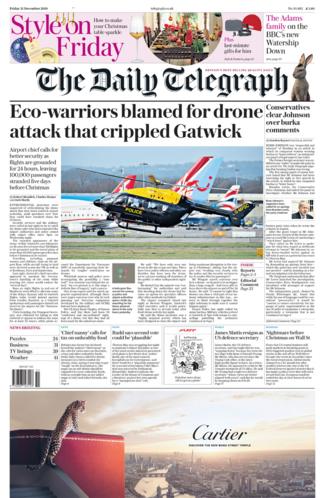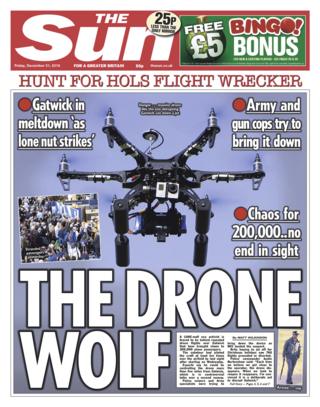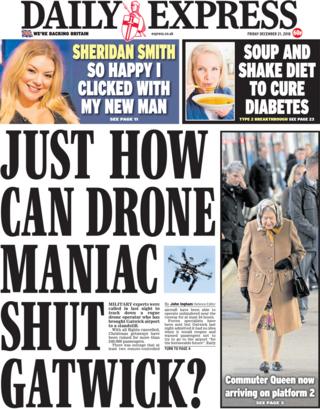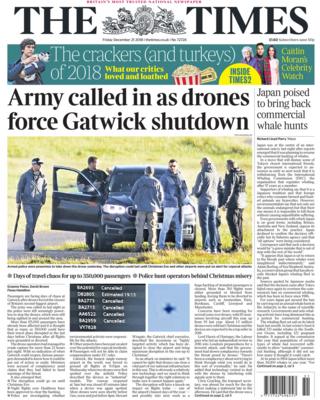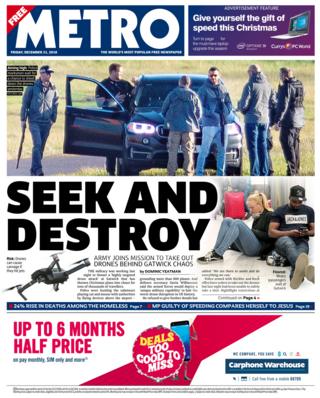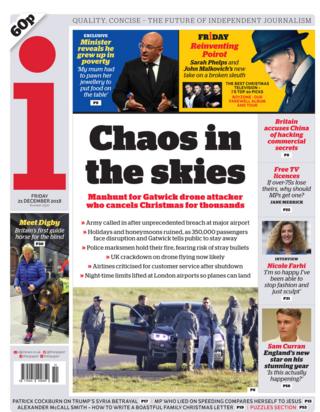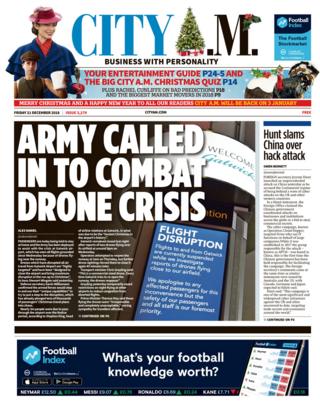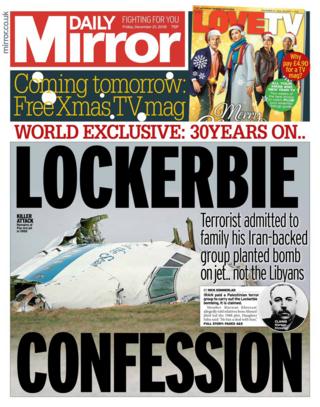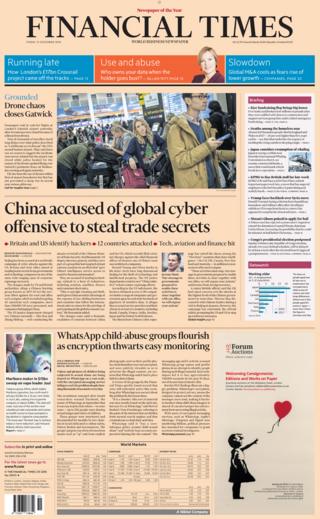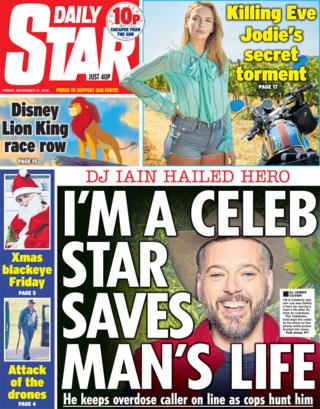 "Flightmare" is how The Sun sums up the plight of tens of thousands of passengers stranded at Gatwick airport. One woman waiting with her two young children says she has experienced "emotional disaster".
The Guardian describes passengers slumped on the floor among piles of bags they weren't able to check in. "Patience is a virtue," says a 20-year-old woman from Norway. "That's what my mum tells me, but I think I'm going to crack."
The Matt cartoon in the Daily Telegraph shows a child at the packed airport declaring: "Only four more sleeps till we get on a plane."
The Daily Mirror insists that there have been repeated calls for the licensing of drones and for additional safety measures around airports. "It's a scandal they were ignored," says the paper.
The mood is echoed in a letter sent to the Telegraph which describes the ability of a drone to immobilise a major airport as "pathetic and almost unbelievable".
The chaos at Gatwick even makes headlines on the Sydney Morning Herald website which suggests the UK has been slow to adopt solutions to prevent such incidents.
HuffPost UK helpfully publishes what it calls five "surprisingly ingenious ways to shoot down a drone".
There's a strong reaction to a call from England's chief medical officer for a sugar and salt tax to help tackle obesity.
The Independent says that Dame Sally Davies has declared herself the nation's "chief nanny" but the Sun accuses her of "snobby hectoring". The nanny state brigade won't be satisfied, it says, until Mars bars are a "ten-quid luxury" and broccoli compulsory.
Christopher Snowdon from the Institute of Economic Affairs tells the Daily Telegraph that the chief medical officer is becoming "increasingly detached from reality".
But the Daily Mail quotes Tam Fry from the National Obesity Forum saying the proposals are music to his ears.
The Financial Times claims that videos and pictures of children being subjected to sexual abuse are being shared on WhatsApp on a vast scale.
The paper says Israeli researchers have warned Facebook, which owns WhatsApp, that it's easy to join chats where in some case more than 250 people are sharing sexual images.
WhatsApp says it has a zero-tolerance policy and actively scans group names and profile photos in an attempt to identify people who are sharing illegal material.
Japan is at the centre of an international outcry, says the Times, after reports that it's planning to resume the commercial hunting of whales.
The paper predicts dismay among Tokyo's international friends if it withdraws from the International Whaling Commission, which regulates the practice.
Environmentalists tell the Times that not only are the animals endangered, but their size means it is impossible to kill them without causing unjustifiable suffering.
And almost a third of the UK's electricity came from renewable sources between July and September, according to a report in the Guardian.
It says that major new offshore wind turbines, as well as solar panels, helped to achieve a quarterly record for green energy.
Get news from the BBC in your inbox, each weekday morning
https://www.bbc.co.uk/news/blogs-the-papers-46642660